There are a lot of different ways to keep the inside of our homes dry as well as our chimneys. One of those ways is by having counter flashing on the chimney. What is counter flashing? It is usually made of galvanized steel and directs water away from areas on the roof such as the intersection of the roof and walls. Roofers will install flashing around vents, skylights, and chimneys.
Let's take a look at why you need to know about counter flashing, what it is, problems with it, common materials used, installing it after building a chimney, common cause of roof leaks, maintenance, and when to contact a professional.
Why You Need to Know About Counter Flashing
You might be wondering why you need to know about counter flashing? Well, if your home has any brick on it, you want to make sure that counter flashing was used in the construction process. Counter flashing is often used to flash chimneys, which means to divert the water away from the chimney and down the siding.
What is Counter Flashing
As mentioned above, it is most often used on chimneys or where the wall meets a roofline. There are two layers: The first one is the base and is at the bottom of the chimney and the second one is inserted into the brickwork of the chimney. The purpose of the counter flashing is to sit on top of the base flashing to make sure water doesn't go past it and instead flows down the roof or through the gutter.
Problems with Counter Flashing
You can see that counter flashing is very important to the chimney and the roof. However, we have to rely on the worker to install it when he/she is laying the brick and mortar. This will make it work best. Unfortunately for some workers, this is too much work so they skip this step and then the roofer has to cut out a ridge and seal it later on. The bad thing about this is the sealant eventually wears out and leaks into the home can occur.
Another problem is some people install it incorrectly such as in the picture below. The counter flashing should be up higher on the wall.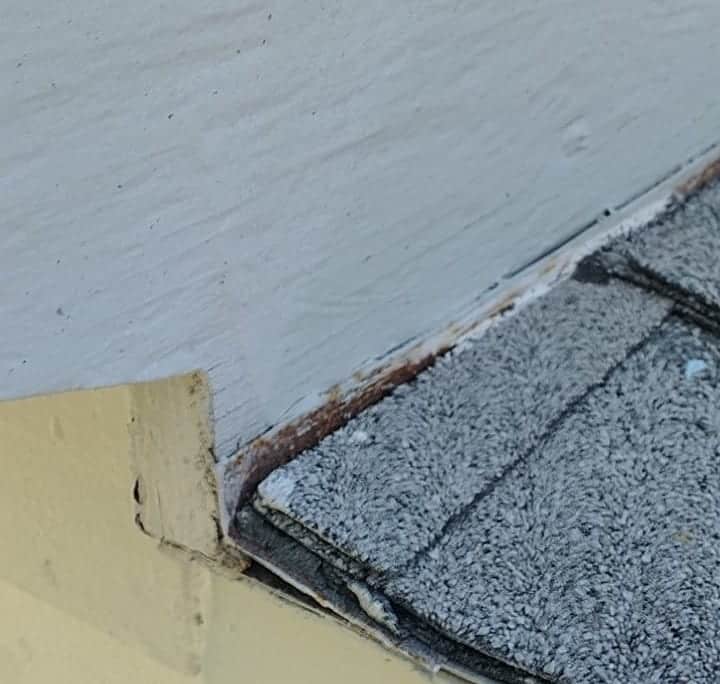 Here is another example of improper counter flashing. Just like the example above, it should be up higher on the wall so water cannot get underneath the shingles.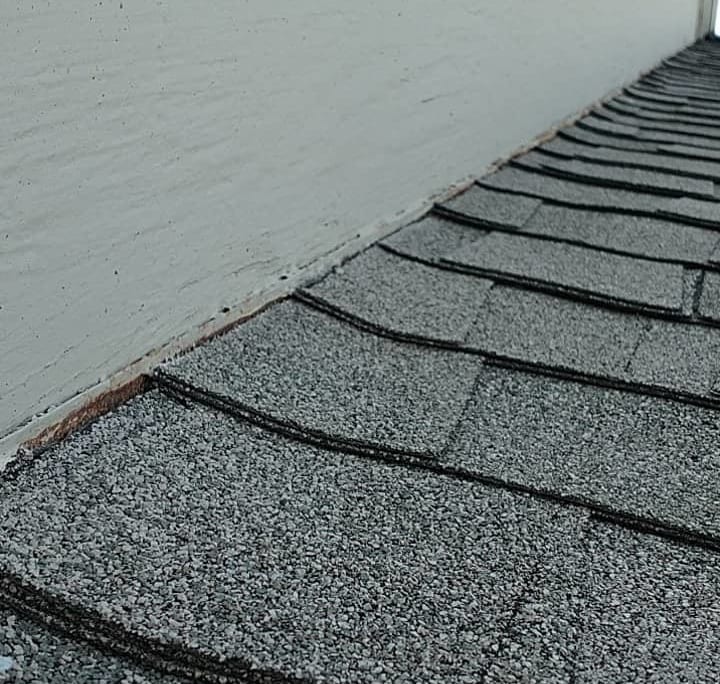 Common Materials Used for Counter Flashing
The three common materials used for counter flashing are: Aluminum, copper, and galvanized steel
Aluminum
Pros
Aluminum can last for 20 years or more when taken care of properly
Pieces can be cut so they are custom-fitted and slide together
Some people will paint it and it is corrosion resistant
Equally important, it is the least expensive of the three materials
Cons
If the material is not taken care of or painted, it can corrode or oxidize. This is especially true if it is in contact with mortar
It is a thin material, can break easily, and cannot be soldered
Joints are weaker when nailed together
Ladders of fallen limbs can damage it
Copper
Pros
Durable and lasts for decades
Aesthetically pleasing
Joints can be soldered
Light, workable, shaped easily
Not to mention, it is an easy install
Cons
Cost the most of the three materials
Thieves love to steal it because of the value
Similar to aluminum, damage occurs by ladders or fallen limbs
Galvanized Steel
Pros
Can last for 40 years or more
Rust resistant
Not to mention, joints can be soldered which is very important
Cons
Can rust if not taken care of and develop holes which lead to water entering the home
Hard to tell if the material is falling apart
Material is very heavy
Tough to custom fit and install because it is so thick
Installing Counter Flashing After Building a Chimney
Improperly Installed Flashing Is a Common Cause of Roof Leaks
Hopefully, now you are seeing how important flashing is! In fact, if it is not installed properly or is damaged, it can lead to roof leaks. This is especially true in the areas of roof crickets, or dormer, and the chimney.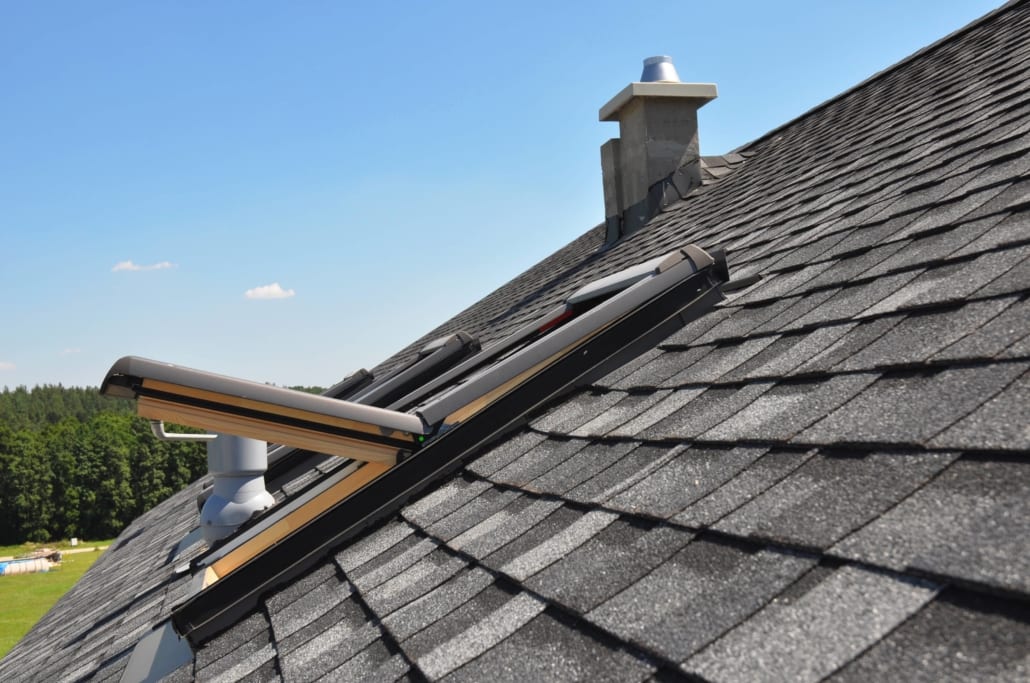 Maintenance on the Roof and Chimney
Every year, it is important to do maintenance on the roof and around the chimney. For example, take a look at your shingles. If any are missing or starting to come off, you have choices in shingles. Many people like architectural shingles while some like the three tabs.
Clean out the gutters and make sure the downspouts extend 6-10 feet from the home. You have the counter flashing which is directing the water away from the chimney so make sure the gutters are clean and the water can flow down and away from the home.
Conduct your summer chimney maintenance so you can make sure there are no unwanted pests or rodents living in the chimney.
Check the roof sheathing. If you are noticing water coming in through the attic or you see wood rot, you may need a professional to help with a diagnosis.
When to Call a Professional
If you notice water coming into the home or issues on the roof or near the chimney, call a professional for help. They can help with a diagnosis and also with answering any questions you may have.
Conclusion
Counter flashing is very important anywhere you have brick on a home. This is usually on the roof and chimney areas. With this in mind, sometimes it is not installed or it wears out quickly and needs replacing. In general, the idea is to always keep water outside of the home. We will look at your chimney during home inspections in Chicago and the surrounding suburbs. Think you may need our services? Leave us a comment below!